NAILPRIMEŽ
Herbal Nail & Hand Treatment
The Last Nail and Hand Product You'll Ever Need.
It's Unconditionally Guaranteed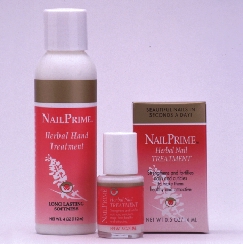 "...a quick fix for brittle nails; NailPrimeŽ really strengthens and hardens."
Glamour Magazine, January, 1995
"Nature's solution to brittle nails."
Sharper Image Spa, fall 1995
---
There's honestly never been anything like NailPrimeŽ Herbal Nail and Hand Treatment. NailPrimeŽ has been clinically proven:
to quickly grow stronger, harder, more flexible nails
to grow nails faster
to condition and rejuvenate your cuticles
to effectively treat nail fungus
is natural and herbal
penetrates through nail polish in seconds without any damage
has no formaldehyde
Beyond being remarkably effective,
NailPrimeŽ Herbal Hand Treatment:
has a long lasting softness
conditions the skin leaving it smoother and healthier
exfoliates and removes dead skin
increases the ability of the skin to hold moisture
soothes and calms the skin
increases the skin's antioxidant defenses
---
Use NailPrimeŽ Herbal Nail Treatment for a quick, long-term fix. For optimum results, add the NailPrimeŽ Supplement and Herbal Hand Treatment as part of your daily health and beauty regimen.
Remember, beautiful hands begin with stronger healthier nails. Discover why Glamour Magazine and thousands of men and women are raving about NailPrimeŽ Herbal Nail Treatment, and why it is the last nail product you'll ever need.
It's unconditionally guaranteed. If you're not completely satisfied with any of our NailPrimeŽ products, simply return the unused portion to us within 30 days of purchase, and we will refund your money.
To order call us @ 1-800-568-4247
©2000 Universal Biologics, All Rights Reserved